Shine the Night – Saturday, April 3, 2021
Shine the Night will be the Best Day Ever Foundation's signature event to be held on the Saturday night before Easter each year. You may ask, why Easter? April was the month when Sophia was diagnosed with cancer and one year later, the month she died. But more than that, both life changing events occurred durin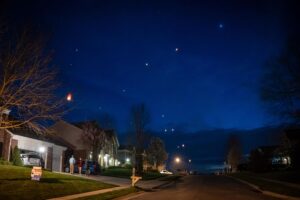 g Holy Week, the most sacred time leading up to the crucifixion, death and resurrection of Jesus Christ. Religious rituals often include lighting up the night before Easter to disperse the darkness, a symbol of Jesus as the light of the world.  It feels right to schedule this event then.
We want to Shine the Night for our children who are in Heaven now with Jesus. We believe our children should light up the night together to help disperse our darkness. Families who have lost a child will receive a Best Day Ever care package. The package will contain paper lanterns to light and release that night, and a gift from the foundation. 
We will first gather everyone together virtually to honor the memory of our children. We would like to make the virtual session personal for each child, more than just their names and/or photos flashed on screen. We all want our children to be remembered. After the virtual portion, each family will simultaneously release the lanterns with their families, friends and communities who lifted each and every one of us during our biggest time of need. Followed by a toast #ToMermaids, of course! Separate but together in 2021.
As we celebrate their lives, our hope is to ensure no family feels alone. We hope this evolves into something more beautiful each year. Together, we will "Shine the Night" for our children. More details on the event to be shared soon. If you would like to help us, please reach out to Amy at [email protected]