The Best Day Ever Foundation:
Provides ways to connect through professional services referral listings for services needed in the community following the death of a child, including grief counselors, support groups and other organizations qualified to assist with specific family needs
Engages and partners with other non-profit organizations concerning pediatric cancer and the loss of a child
Sponsors seminars and workshops open to families who have endured the loss of a child where resources are made available and families can connect, to express concerns and share experiences with others;
Publishes a periodic newsletter containing information about family experiences and opportunities within the community
Engages in other activities related to educating the public about the loss of a child and the impact of a family with a goal to help them regain joy in their lives again.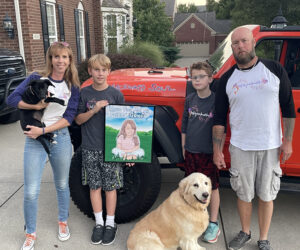 We collaborated with SMILE Books Project, a nonprofit organization dedicated to bringing smiles to children suffering from life-threatening medical conditions. We wanted to create a resource book for children and how they might move through life with grief. 
Have You Met My Friend, Grief?…
Grief. It leaves a void that can never be filled. There aren't enough words to explain it and there aren't enough books to talk about it…until now. The endearing example of Sophia's outlook on life while fighting cancer is captured while helping explain grief and loss to both adults and children. Proceeds from the sale of this book benefit Best Day Ever Foundation that was created by the Kappen family to bring families experiencing loss and grief together, along with much-needed resources. It is our honor to help accomplish so many things with one book. A book that should be in every home and school.
Order your copy of "Have You Met My Friend, Grief?"
HERE
.
We believe in partnering with many childhood cancer-focused nonprofits, organizations, and stakeholder institutions from across the U.S. through mutual collaboration to further existing missions and help families affected by pediatric cancer feel more supported by the efforts of many. Our goal is never to compete, but to complement, support and strengthen the existing missions of our partners. From our network-building efforts, to support opportunities, awareness, resource building and patient advocacy, Best Day Ever Foundation is committed to the concept that a family's journey after the funeral is the priority, and collaboration is in our strategy. We are grateful to our partners who share in our philosophy and vision.