Monday, February 27th, 2023 @ 6:30-7:30pm – at Joseph Beth Bookstore in Rookwood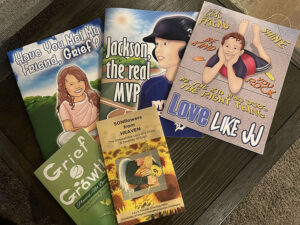 The Best Day Ever Foundation is offering an opportunity to sit down with 3 local authors who have published books after the loss of their child (or on behalf of a family who's lost a child). If you've ever considered writing a book in memory of your child or about your personal journey, then we encourage to come join us for our private event.
We're honored to have these amazing parents to speak with us:
Brian Smith, Grief 2 Growth
Laura Toomb, SONflowers from Heaven: The Unbearable Loss of a Child: A Journey a Grief, and
Sarah Curry Rathel, author/founder of Smilebooks Project
Please join us as each of them shares their experiences on how they decided to write a book and how they did it. Event is open to Best Day Ever families. Great opportunity for any siblings too.
Coffee/tea will be offered.
Register for the workshop here. 
Contact Amy Kappen with any questions at [email protected]
The Best Day Ever Foundation whose mission is to fill a void in the bereavement family space by providing unique opportunities for families who have lost a child. Helping families regain moments of joy. Thank you for supporting our organization and mission.